Fetal Distress Claimed in Birth Injury Lawsuit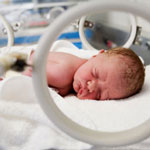 An Illinois woman, represented by birth injury lawyers, has filed a lawsuit on behalf of herself and her three year old son. She claims that her son suffered fetal distress resulting in a birth injury. The plaintiff, Denise Leonard, filed her complaint on the 28th of March 2012 after her son Marques Watson, Jr. was born with permanent injuries after the attending physicians at the birth did not, according to the lawsuit, respond to the distress and fetal infection, or diagnose it in a timely manner.
Fetal distress occurs when a child's chart rate drops or flattens during labor which can cause stress and potentially significant injury to the infant. This can be caused by infection, an umbilical cord wrapped around the baby's neck, or detachment of the placenta. Fetal distress can lead to permanent damage to the implant if it isn't treated with immediate medical intervention. Leonard has filed a lawsuit alleging a birth injury in the Circuit Court of Cook County, Illinois.
Hospital did not respond to signs
According to the lawsuit, Leonard went into premature labor early in the morning on the 12th of December, 2008. She was admitted to the West Suburban Medical Center in Oak Park, Illinois at 3:27 a.m. Reduced fluid and reduced fetal movement were present, which are both indicative of fetal distress. In addition, a series of non-reassuring fetal monitor strips were noted. These took place at 4:08 a.m., 4:23 a.m., and from 4:56 until about 5:21 a.m. Despite these signs of complications, Leonard was allegedly discharged from the hospital at 5:50 a.m., and appropriate tests or medical interventions were not performed.
The hospital did not adequately follow up with either Leonard or Marques after they had been discharged from the hospital. She is seeking compensatory and punitive damages for Marques' permanent injuries that he suffered due to the negligence of the hospital.
Birth injury lawyers can help
It is important for a patient whose child has experienced birth injuries to contact a lawyer as soon as possible in order to win compensation from the doctors and hospital that caused the injury.