Brain Damage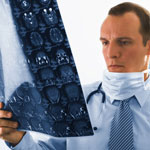 Many things can go wrong when delivering a child, but medical professionals are trained to recognize signs of trouble and distress before catastrophe occurs.  Unfortuantely, that is not always the case. A medical team needs to monitor the mother and child throughout the entire birthing process. If there's an emergency, they must react quickly and competently.
Failure to adhere to medical care standards or failure to react quickly and effectively in certain situations may result in a baby born with brain damage or some other type of birth injury.
In an effort to recuperate costs associated with brain damage injuries, you may consider filing a birth injury lawsuit.
Symptoms
The following symptoms should indicate to a medical team that a child is at risk of brain damage:
Diabetes in the mother
Decreased levels of amniotic fluid
Hypoxia or lack of oxygen
Uterine rupture
Abrupted placenta
Changes in the baby's heart rate
Hypertension disorders such as preeclampsia or HELLP Syndrome
Hematological disorders such as sickle cell disease or anemia
If a medical team fails to recognize and react to these symptoms, a child's brain may be cut off from its oxygen source. This can severely impact the brain or nervous system. Infants with brain damage may have hearing loss, vision problems, impaired motor function, seizures, learning disabilities or hyperactivity.
Brain damage may warrant medical malpractice action
Not only is caring for a brain damaged infant emotionally taxing, but the baby's needs throughout life may end up costing a fortune .  Too often birth injuries occur that were otherwise preventable. If your medical team failed in some way during the delivery of your baby, you may be eligible to file a brain damage lawsuit.
If your baby sustained brain damage at birth, call the birth injury legal team of Balkin & Eisbrouch to speak with a medical malpractice lawyer today. We offer complimentary case evaluations, and there is a never fee for our legal services unless we win your case.