Hypoxic Ischemic Encephalopathy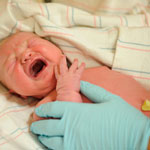 Hypoxic ischemic encephalopathy, often abbreviated as HIE, is a brain injury that takes place when a fetus does not receive enough oxygen. It may also be referred to as "perinatal encephalopathy" when it is referring to a birth injury sustained by a newborn during the childbirth process. Brain damage including cerebral palsy and mental retardation may occur when brain cells are deprived of oxygen; when the brain is not getting enough oxygen, its cells start to die. As a general rule, usually the longer an infant is deprived of oxygen, the more serious his or her condition is.
Causes of HIE
HIE can be caused by a variety of things, including fetal distress, shoulder dystocia, failure to perform a c-section, diabetes in the mother, problems with the umbilical cord, uterine rupture, and placental abruption, meaning that the lining of the placenta has separated from the uterus. Motor impairments, cognitive impairments, epilepsy, developmental delays, and cerebral palsy may result from HIE. Necessary components of a successful birth, with the lowest possible chance of HIE, include proper medical equipment, qualified personnel, accurate monitoring of the fetus, and quick and competent reaction on the part of the medical staff. These things will help reduce the risk of HIE as a result of birth injury or medical malpractice.
Although some children who suffer from HIE go on to live normal lives, many are forced to deal with a lifetime of health challenges and often require constant care and supervision as well as significant medical expenses. If HIE is caused by something going wrong during the child's birthing process, parents may choose to file a lawsuit with the help of a birth injury attorney.
Why file an HIE suit?
Those who choose to file suit because of malpractice resulting in an injury are seeking compensation that could help cover the costs of the birth injuries the child has sustained, as well as medical bills he or she will likely have to deal with in the future. If a lawsuit is successful, damages such as medical bills and parents' lost wages could be covered by a settlement or jury verdict.
To learn more about your legal rights in the aftermath of a serious birth injury, talk to the birth injury lawyers of Balkin & Eisbrouch.  You may be entitled to significant compensation for the ordeal you have been made to suffer at the hands of negligent medical personnel. Legal consultation is complimentary and there is never a fee unless we win your case.