Cerebral Palsy Attorneys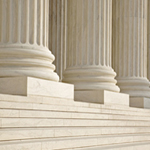 Children with cerebral palsy may require a lifetime of care. Caused by brain damage in the newborn, cerebral palsy is a permanent condition that can cause a child to experience developmental delays, difficulty in moving or walking, difficulty with speech, erratic or jerky movements, stiffness, seizures, cognitive impairment, or vision and hearing problems. Spastic quadriplegia is a form of cerebral palsy in which all four limbs are affected. In the most severe cases of cerebral palsy, sufferers must have round-the-clock care and are confined to a wheelchair.
Faced with a lifetime of expenses for medical treatment, physical therapy, special equipment such as wheelchairs or stair lifts, medications, or home health aides, parents often feel overwhelmed and don't know where to turn. If the injury was caused by medical malpractice, parents and their children may be eligible to obtain substantial financial compensation by means of a cerebral palsy lawsuit.
Litigation is a complicated process, and that's where Balkin & Eisbrouch can help. Our cerebral palsy attorneys and medical advisers are experts in the field and have decades of experience  litigating malpractice and birth injury cases.
Preparing your cerebral palsy lawsuit
When you call Balkin & Eisbrouch for a free consultation, we listen to the details of your case, analyze all the medical records of the pregnancy and birth, and determine whether malpractice or negligence took place. We are committed to seeking justice for your child and to getting you the best possible settlement to help you provide the care that your child needs.
Talk to qualified cerebral palsy attorneys today
In many cases, juries have awarded millions of dollars in birth injury settlements to parents of children who suffered as a result of medical negligence. Settlement amount and jury verdicts are based on many factors, including the severity of the child's condition, the type of negligence or malpractice that occurred, medical expenses, pain and suffering, loss of quality of life, loss of income, and other variables.
Call Balkin & Eisbrouch for a free evaluation of your case and find out what we can do for you. There is absolutely no cost to you unless we win your case.