Umbilical Cord Problems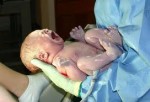 Umbilical cord problems are a common obstacle during childbirth, and when addressed competently, are generally well managed and babies are delivered without incident. However, some problems can get out of hand, exposing the fetus to a greater risk of sustaining a serious birth injury.
The most common types of injuries include brain damage and damage to other organs. In the worst cases, the fetus may be stillborn.
Typical examples of umbilical cord problems
There are several types of cord problems that may develop in the womb and/or during delivery. These include:
Umbilical hernias
"Nuchal cord"- which describes the cord wrapping around the body or neck of the fetus
Umbilical cord knots
Compressed cord
Strangulation
Problems such as these are evidenced by signs of fetal distress, typically when the fetus is deprived of oxygen.  It is the task of the delivery room to be sensitive to the very first signs of distress.  Ultrasound machines are often employed for this purpose.  If the distress cannot be somehow alleviated, a prompt C-section delivery may be indicated.
Risk factors for birth injuries
The following health factors typically raise red flags that umbilical cord problems may arise. Such factors include:
High blood pressure in the mother
Diabetes in the mother
Multiple pregnancies
Adavanced age of the mother
Long length of umbilical cord
A birth injury lawyer may be able to help
Balkin & Eisbrouch have more than 40 years of experience working with families who need to recover the financial, emotional and physical costs related to birth injuries. Through the years we have built a vast network of medical experts and investigators who know exactly what to look for as we build your medical malpractice case. We believe that if the attending medical staff caused you or your baby to suffer a serious birth injury, they should be held accountable.
Talk to a birth injury attorney today about your potential claim. Our legal team offers free case evaluations and we charge no legal fees for our services unless we win compensation on your behalf.