VBAC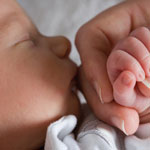 In recent years, vaginal birth after cesarean (VBAC) has been a subject of debate within the medical community. While complications are rare, VBAC may expose the mother to a greater risk of uterine rupture and the fetus to a similar increase in the risk of sustaining a birth injury.  At the same time, the alternative of birth by cesarian section presents its own set of risks including c-section mistakes, infection, and anesthesia problems.
Doctors must weigh the relative risks with the benefits of delivering a healthy baby and make the best decision. If problems arise, those same individuals must react quickly and competently or else commit medical malpractice.
Risks and warning signs of uterine scar rupture
Uterine scars are formed after a prior C-section birth. These scars are in some danger of bursting when a mother labors for a VBAC.  Risk levels vary according to the saize, shape, and placement of the existing uterine scar.
Uterine scar ruptures may occur suddenly and with little warning. Signs include:
Diminished intensity of contractions
Fetal heart rate changes
Sharp, intense pain in the vicinity of the scar
Vaginal bleeding
Rapid response to warning signs critical during VBAC
If a rupture does occur, a prompt C-section may be required to avoid birth injury. Failure to act may result in the baby pushing through the uterine wall and into the abdomen.  Such a situation can cause a birth injury such as fetal brain damage.  The mother faces additional risks of internal hemorrhaging.  Doctors also face the added challenge of delivering the baby caught in this position.
The American College of Obstetricians and Gynecologist deemed a quick response so vital that its guidelines recommend that women who opt for vaginal birth after a prior c-section be offered electronic fetal monitoring . They also require that a surgeon and anesthesiologist be on hand during delivery in the event they are needed for immediate surgery.
Filing a medical malpractice lawsuit
When medical professionals fail to safely delivery a baby born to a mother who labored for a VBAC, they may be liable in a medical malpractice lawsuit for any birth injuries that result.
The birth injury lawyers at Balkin & Eisbrouch can help determine if you are be eligible to file a VBAC lawsuit. Our unparalleled team of medical experts and investigators work alongside our talented legal team to help reveal what really went wrong during your delivery. If they caused you or your baby any harm during labor and delivery, your may be entitled to compensation.
Call us today for free evaluation of your potential claim. We collect no attorney fees unless we win your case.