$30 Million Birth Injury Lawsuit Charges Negligence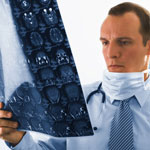 Kassie and Higinio Rivera, both residents of Michigan, filed a birth injury lawsuit on April 13, 2012. The Riveras allege that their minor child, H.R., suffered injuries after medical staff from Darnall Army Medical Center exhibited negligence during his birth. The complaint states that, among other allegations, medical staff administered Pitocin when H.R. was showing signs of distress, and is thus responsible for his brain damage resulting from a birth injury.
Child experiences brain damage resulting from a birth injury
Kassie Rivera was admitted to Darnall Army Medical Center in Fort Hood, Texas, on September 11, 2008. She was given Pitocin, a synthetic drug to induce labor and quicken contractions, around 1:00 p.m. At 9:45 a.m. the following morning, staff artificially ruptured her membranes. By 10:00 p.m. that evening, the baby's heart rate had dropped several times; Ms. Rivera delivered vaginally at 10:28 p.m. Notably, the Riveras' lawsuit states that when Pitocin is used improperly, it can cause hypoxia, cerebral palsy, uterine rupture, still birth and, in H.R.'s case, low oxygen resulting in brain damage.
Lifelong care mandatory after experiencing low oxygen resulting in brain damage
When he was born, H.R. reportedly required a ventilator to breathe. He soon began experiencing seizures. Radiologists determined that, during birth, he had experienced low oxygen resulting in brain damage. H.R. also had kidney and liver injuries. His physicians believe that his injuries are permanent; he will live with physical and mental disabilities for life, and will require lifelong care.
Parents filed a birth injury lawsuit to seek compensation
The Riveras' complaint alleges that Army Medical Center health professionals were negligent in their interpretation of fetal heart rate. Their case states that the staff failed to perform a cesarean section, even though that is standard procedure under these conditions. The Riveras request $30 million in damages, which will in part be used to provide H.R.'s lifelong medical care required by his injuries.