A Hospital is Alleged to Have Made Numerous Mistakes in a Child's Birth, Causing Her Brain Damage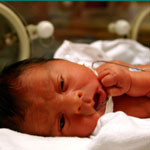 A lawsuit filed on September 12, 2011, alleges that Advocate Health and Hospitals Corporation, et, al. committed a variety of wrongful acts leading to plaintiff Joanna Carey's infant daughter Lillian Muniz to have brain damage.
Among the allegations are:
• The hospital staff failed to perform a cesarean section in a timely manner
• They failed to implement expedient delivery
• They failed to properly read and interpret fetal monitor strips
• They administered an improper increase in dosages of Pitocin
The case was filed in the Circuit Court of Cook County, Illinois.
Carey's attorney charges Advocate with negligence and the Family Expense Act and the lawsuit claims that she and her daughter are obligated for "various sums of money for the medical, hospital, and caretaking expenses of the minor disabled plaintiff."
Negligence and malpractice are alleged in a baby's delivery
Plaintiff Carey checked into Advocate Hospital on November 30, 2003 and presented non-reassuring fetal heart tracings as well as other symptoms of fetal distress during labor. The baby was having variable and distressing heart rates that indicated oxygenation problems.
Aware that the baby was in fetal distress, the Advocate staff allegedly continued to administer rising dosages of Pitocin.
The lawsuit, claiming brain damage resulting from a birth injury, states that the plaintiff completely trusted her care of herself and her baby Lillian Muniz to the medical staff at the hospital.
The lawsuit claims wrongful acts and omissions. The hospital had a duty to provide care and treatment that is consistent with accepted standards of prevailing medical practice. It is also expected that the medical staff is trained adequately and can evaluate a patient's labor as well as the baby's condition, and they will provide timely and adequate treatment of possible complications that develop during the course of labor and/or delivery.
Contact an attorney for a free consultation and case evaluation
If you have experienced a similar birth injury, the attorneys at Balkin & Eisbrouch can help you. A consultation and lawsuit evaluation is free and you pay no money unless you win your case.
Balkin & Eisbrouch has over 40 years of experience pursuing the highest possible awards for our clients to compensate them for the pain, suffering, and medical expenses that accompany the tragedy of a child born with a birth injury.
Call today to discuss your case.