BIrth Injury Caused Death, Illinois Lawsuit Claims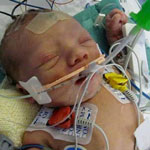 A birth injury lawsuit filed in Illinois court by a plaintiff who claims her son died after becoming the victim of medical negligence is joining dozens of other lawsuits filed by parents of children who have suffered serious birth injuries. The plaintiff, who filed her lawsuit on November 6, 2012, is naming the medical center where the delivery took place as a defendant in the lawsuit, as well as the doctor who oversaw the labor. She claims that the medical professionals at the hospital made C-section mistakes that cost her son his life.
Mistakes made during delivery
The plaintiff states in her lawsuit, filed with the help of a birth injury lawyer, that she went to VHS West Suburban Medical Center on the 6th of December, 2011, expecting to deliver her child after her water broke. Less than 3 hours after she arrived, she was admitted to the labor and delivery ward at the hospital on December 7, 2011. After she spent a number of hours in labor, the plaintiff says, the medical staff became concerned about the irregular heart rate of the fetus, and ordered that the plaintiff undergo an emergency C-section delivery.
Medical staff found at this time that the mother had sustained a uterine rupture and had lost a significant amount of blood while she was in labor. Her son was born without a pulse, and was transported to Children's Memorial Hospital, where he died on the 16th of December.
The plaintiff claims that the medical staff failed to perform a C-section delivery in a timely fashion, and claims that they should have recognized the alarming features on the fetal heart rate monitor much more quickly than they actually did. The staff also allegedly did not adequately note the risks associated with attempted vaginal delivery after a previous C-section, which allegedly contributed to the complications the plaintiff and her son suffered during the delivery process.
Plaintiff seeks compensation
Like many others who are involved in birth injury litigation, the Illinois woman is seeking compensation for her injuries. She is holding the hospital and overseeing physician responsible for the death of her son and seeking damages for grief and mental anguish, pecuniary loss, and funeral expenses.