Mother and Daughter Seek Compensation in Erb's Palsy Suit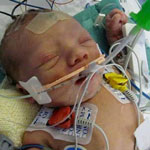 A mother and daughter from Illinois have filed a joint lawsuit against the hospital they say is responsible for the daughter's severe birth injuries. The plaintiffs have filed their lawsuit against the United States of America as the administrator of the Will County Community Health Center, whose doctors the plaintiffs say are responsible for the daughter plaintiff's injuries. The complainants are making a number of allegations against the company, namely that due to negligence on the part of the attending physicians who cared for the mother plaintiff before the birth and supervised the delivery process, the child suffered a brachial plexus injury that resulted in a diagnosis of Erb's palsy.
Medical malpractice leads to injury
According to the allegations made in the lawsuit, the mother plaintiff, who has filed the lawsuit acting as a guardian to the minor plaintiff, gained more than 60 pounds while she was pregnant as a result of a condition known as fetal macrosomia, in which the baby weighs more than nine pounds. However, the doctors responsible for her care failed to diagnose this condition before she gave birth to her daughter, which she claims contributed to the damage done to her daughter during the birthing process.
The infant was born on the 4th of September, 2008, at Silver Cross Medical Center weighing 11 pounds and 11 ounces. As an alleged result of the large size of the child and other contributing factors, she suffered from a brachial plexus injury during the delivery that has caused her ongoing pain and suffering. The medical professionals attendant at the delivery and who evaluated the plaintiff before she gave birth allegedly failed to diagnose the infant's macrosomia, did not adequately examine the mother in a way that would accurately determine the size of the fetus prior to its birth, and did not give the mother the option of having a C-section, among other negligent acts.
Lawsuit seeks compensation
The plaintiff claims that because of the negligent acts and/or omissions committed by the physicians responsible for her care, her infant daughter was born with Erb's palsy and continues to suffer from its effects to this day. The plaintiffs are seeking compensation for the child's injuries, including for medical bills that have been incurred and will be incurred in the future, as well as costs of care and compensation for pain and suffering. The plaintiffs are seeking more than $50,000 in their lawsuit.