Birth Injury Lawsuit Removed From Illinois State to Federal Court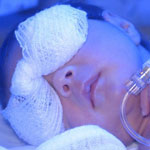 A family who filed a birth injury lawsuit in the Circuit Court of Cook County, Illinois, saw their lawsuit removed to federal court on the 6th of December, 2012. The plaintiffs initially filed their lawsuit on August 3rd, 2012. Per the Federal Tort Claim Act, the lawsuit was moved to the United States' District Court for the Northern District of Illinois. The plaintiffs are claiming that defendants Mount Sinai Hospital Medical Center of Chicago are responsible for the birth injuries suffered by the minor plaintiff involved in the lawsuit, including Erb's palsy and other complications that took place as a result of medical negligence or malpractice.
Proper care not given
The plaintiffs' lawsuit claims that the mother plaintiff went to the defendant hospital, Mount Sinai Hospital Medical Center, on July 3, 2010, to deliver her daughter. The lawsuit goes on to state that the physician responsible for the delivery did not fulfill his responsibility to provide the plaintiff with proper care and monitoring and to make decisions that would keep the safety of both parent and child in mind. The plaintiffs assert that the physician present during the delivery process applied force that was too rough for the delicate child as she was being born, injuring her head and neck. As a result, the infant has suffered permanent neurological injury and brachial plexus injury, resulting in a condition known as Erb's palsy.
The brachial plexus is a bunch of nerves that control a variety of functions, including movement of the arms. Damage to these nerves can result in paralysis of the arms or limited arm movement, a condition that is known as Erb's palsy. This can result in numbness, mobility issues, and other serious complications that can be lifelong. The condition requires extensive and ongoing physical therapy, and in some cases surgery may be required in an attempt to repair the damaged nerve cluster.
Damages sought by family
The family involved in this lawsuit are seeking compensation for the child's injuries, as well as the costs they have had to and will have to pay as a result of those injuries. Medical bills and care costs are among those costs they are seeking from the defendants, and they have enlisted the help of an experienced personal injury lawyer as they mount their litigation against Mount Sinai Hospital Medical Center.