Shoulder Dystocia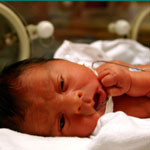 Shoulder dystocia is a condition that can occur during the delivery of a baby if the shoulder of the child gets stuck behind the mother's pelvic bone. This only occurs during vaginal delivery. It is not entirely clear how common the condition is, because it is believed that doctors underreport the condition in an effort to avoid medical malpractice lawsuits.
In order to treat this condition in a way that will not cause future problems, the medical staff in the delivery room will need to take immediate action and be on a constant watch for possible complications. Any failure to do this and failure to follow accepted medical procedures could lead to birth injury lawsuits.
What is the impact of shoulder dystocia?
Shoulder dystocia can cause brain damage, brachial plexus injury, cerebral palsy, bone fracture (namely of the clavicle and/or the humerus), contusions, and lacerations. These conditions range from mild ones that will go away in a short amount of time to conditions that will affect a child for the duration of his or her life. They can be significant and debilitating, and can have a serious impact on the child's quality of life along with that of his or her parents.
In order to prevent shoulder dystocia, doctors must be on the lookout for risk factors such as small stature/obesity/abnormal pelvic anatomy in the mother, large fetal size, diabetes in the mother, preeclampsia, or a previous shoulder dystocia birth.
The condition can also cause injury to the mother, with complications such as lacerations or postpartum bleeding having a significant impact on the birth.
Why file a birth injury lawsuit?
Parents of children who have suffered a birth injury may choose to file a medical malpractice lawsuit on behalf of the child in the hopes of winning compensation that could help cover some of the medical expenses that have been sustained. If your child has been the victim of a birth injury caused by medical malpractice, you and your child may be eligible for compensation for medical negligence.
Contact the birth injury attorneys at Balkin & Eisbrouch today for a free consultation. There will never be a fee unless we win your case.